GET A publishing deal worth N500k for just N360k!
The once in a lifetime WORITAL Starter Plan Promo is still ongoing!
Getting your book published at half the price it would usually take is the stuff of dreams and your dream of being a published author is about to come true! Even if this is not your first book, you are still in luck as you won't get this offer anywhere else. Perhaps, you've been dreaming of the day you'll be able to afford our book publishing packages?
Well, imagine no more as that day is here!
The WORITAL Starter Plan offers the following:
MANUSCRIPT MUST NOT BE MORE THAN 10,000 WORDS
By now, you might be giddy at your good fortune. What if I tell you the best part is yet to come?
See What Other Authors Are Saying About WORITAL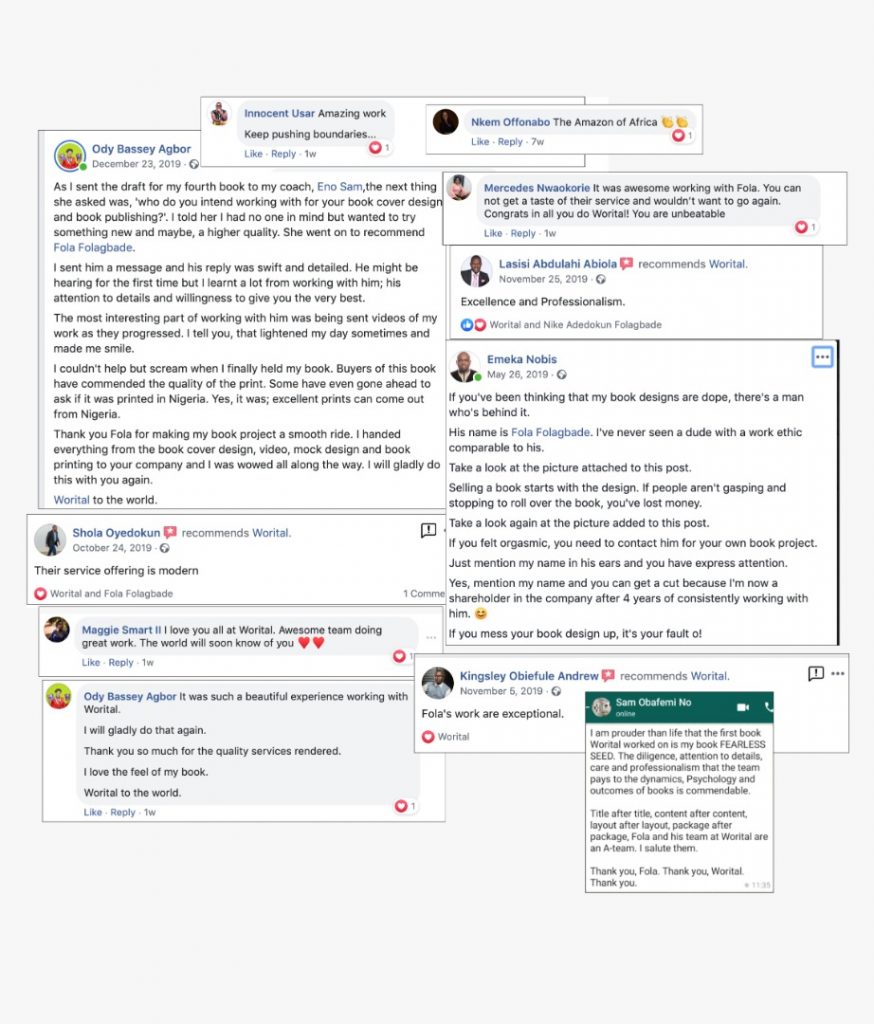 Check out some of our works
Take a peek inside our Wonderworld
Ready to take this deal? Then, click on this BUTTON to get instant access to the offer.
STARTER
(MAXIMUM OF 10,000 WORDS)
Check out more of our works
Frequently asked questions
STARTER
(MAXIMUM OF 10,000 WORDS)
MORE RECOMMENDATIONS FROM OUR AUTHORS
I am prouder than life that the first book Worital worked on is my book FEARLESS SEED. The diligence, attention to details, care and professionalism that the team pays to the dynamics, Psychology and outcomes of books is commendable. Title after title, content after content, layout after layout, package after package, Fola and his team at Worital are an A-team. I salute them. Thank you, Fola. Thank you, Worital. Thank you.
I met with WORITAL's Team early this year, a clueless author, no idea on what a cover design or interior of a book should even look like. I was excited to just write and write, not knowing that being an author is not just about writing, but knowing that every detail counts, WORITAL team took care of that, they take EVERYTHING into consideration. The day I called frustrated, he managed me with excellent customer service. The quality of their design is second to none, trust me; they won't get rid of me that easy. The minute I saw my book cover, I was blown away; this was the same reaction with friends and frenemies. I got to write two more books and who do you think will handle everything? WORITAL!
Working with Fola on my book project was one of the best professional experience I've ever had. Fola was quick to grasp the ideas about my book and to develop a concept for it. He promises and delivers right on time. His touch of excellence is so superb that I was lost in choice from the drafts he presented to me. I will not hesitate to recommend him at any time.
As a book project consultant, I am a fan of professionalism. I wanted a topnotch cover design and high quality print for my third book, From A Newbie To A Highly Paid Author. My readers are special and I wanted them to have a good feel of my book when holding it. So, I reached out to Fola, having seen the quality of his designs in recent times. Fola did an amazing job and even sent me a surprise gift alongside the printed books. People who have ordered my book have commented on how captivating the design is. I always advise authors not to trade their cover designs and prints for anything. And yes! They can trust WORITAL on that.
Ready To Get Your Book Published With Our Amazing Offer?
You should join our list of authors because at WORITAL, every book comes with a smile.